Metal Trumpets found in Carrigogunnell Bog in 1787.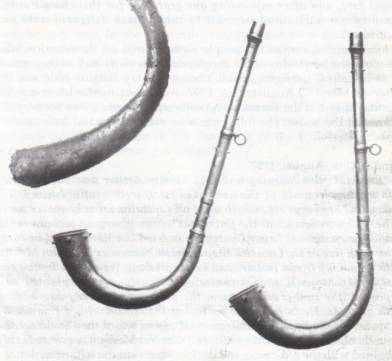 In 1787 A.D. a man cutting turf in a bog near Carrigogunnell found three copper coloured trumpets made of mixed metal. He sold the trum pets to a Brazier, or brass worker in Limerick city and they subsequently came into the possession of Mr. Ralph Ousley, M.R.I.A. The total weight of the three instruments was 9 Ibs. 11 1/2 ozs. One of the trumpets was damaged when the turf cutter's spade cut across the mouthpiece. They were otherwise in a good state of preservation when found. Two of the trumpets are now in the National Museum, Kildare Street, Dublin 2.
Ringed Pin found in Corcamore, near Carrigogunnell
Ringed Pin found in Corcamore. Courtesy National Museum. The pin is described as a ringed pin of a type popular in the 9th and 10th centuries A.D. It was widely used outside Ireland by the Vikings, and is found in Viking years in Scotland and Scandinavia. This particular pin was found, nearly sixty years ago, in a ringfort, in the townland of Corcamore, by a boy named John Cregan, who was then a student in St. Munchin's College, Limerick. Corcamore is in the old parish of Kilkeedy, or what is now the Roman Catholic parish of Patrickswell. The ringfort in which the pin was found is about half a mile from the ruins of Carrigogunnell Castle, and is on Cregan's land. John Cregan gave the pin to his then teacher, the late Monsignor Moloney, who forwarded it to the National Museum where it is now stored.